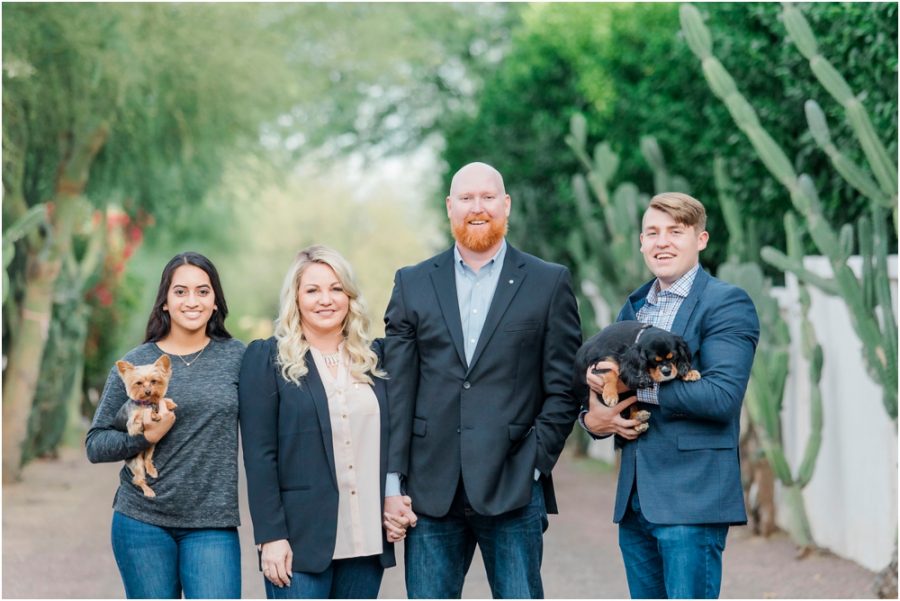 I met up with the Brandt family at their private residence in Scottsdale, Arizona, early in November for a family portrait session.
Before I even arrived at their home, I knew that this was going to be a beautiful session. I love the natural backdrops that the Arizona landscape has to offer, and as I drove up to their Scottsdale home, I was struck by the beautiful colors. They had lovely views of the nearby Camelback Mountain, not to mention a great cactus in the area of their long driveway. What a perfect backdrop for a portrait session!
The Brandt Family's Scottsdale Family Session
There was a sign at the front of their house warning people about a guard dog. But, when I actually met their cute little dogs, they were only 4 pounds and maybe 18 pounds! My husband, Ryan, helped me "wrangle" the dogs. It wasn't that difficult since they were calm, relaxed, and really small and manageable. I love when my families include their pets in their family portrait sessions, and that's especially true when I come to their homes. After all, this is where families naturally come together and the genuine joy and love is so easy to find!
Tristan, the father of the family, was very friendly and gave me a tour of their house. He was from Texas, but it was clear to see that he enjoyed their new home. He was easy to get along with, and so was his wife, Amy—who I instantly knew I would like once we started talking! They have a gorgeous son and daughter who share their love of animals, including their dogs and horse.
Tristan & Amy, thank you for inviting me into your home and for allowing me to meet your amazing family—pets included! I honestly enjoyed getting to peek into your lives and I hope you will treasure your family photos for years to come.
Scottsdale Family Photography