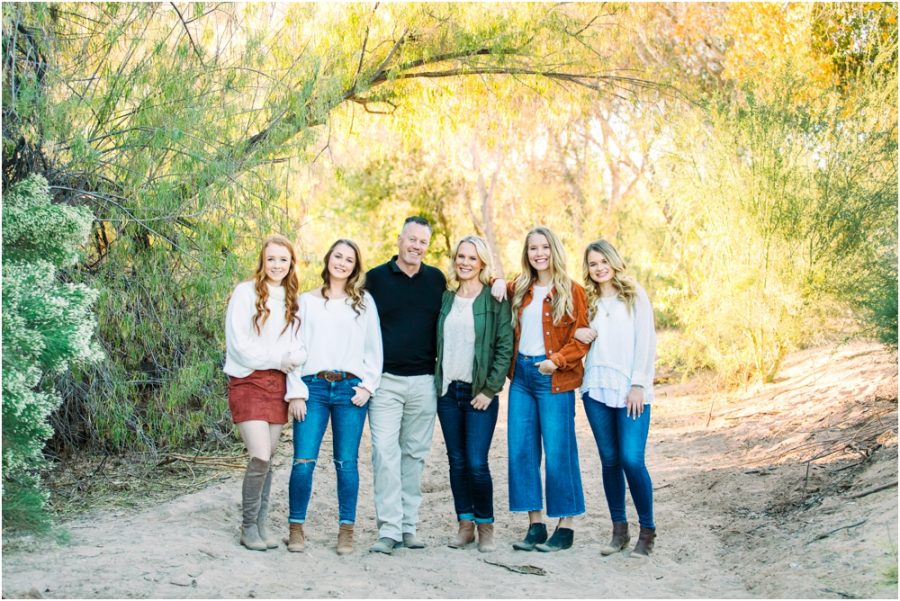 I love shooting family portrait sessions in Scottsdale, like this one I got to photograph at the end of November for Tiffany and her family of beautiful girls.
Arizona Family Photography
One of my favorite things to do as a family photographer is to find the perfect backdrop. I have to tell you: living in Arizona has spoiled me for good scenery! You might think that Arizona is only deserts and cacti, but you would be wrong. There is such a diverse and amazing level of natural beauty here in Arizona depending on where you are. In Scottsdale, for example, I have not only contemporary urban locations but also vast deserts and different luxury resorts I can use to mix up the backgrounds for my family sessions. With so many different resorts to choose from, you basically have your pick of gorgeous backgrounds.
Chandler is only a short drive away, and you can find some beautiful wooded parks in addition to cityscapes. Or maybe you want to go to the deserts in Gilbert! And, of course, Phoenix itself has everything you could look for when it comes to scenery.
While I love shooting in the desert, it's also fun to find wooded locations to mix things up. I also make sure to rotate my families to new locations every year so that they never have the same backdrop or location. After all, you don't want to get into a rut! I want my families to have as much fun with their family portrait sessions as I have photographing them, and part of that is finding good locations. Most of the locations I use for my family photography in Phoenix and the metropolitan area are private. I try not to make my clients put up with crowds when they are trying to focus on their own family!
Scottsdale Family Portrait Session
For this particular family portrait session, we got that "Scottsdale in the fall" feeling, with full autumn colors on display. We had a great session as we hiked around. Locations like this are perfect for a nice, relaxing photography session, because it feels like a little adventure! I also loved that Tiffany had coordinated their outfits without making everyone match. The soft colors went well with the fall backdrop.
Tiffany, thank you for bringing your family to this session! I loved spending time with you all! Thanks also to my assistant for helping make this session amazing.