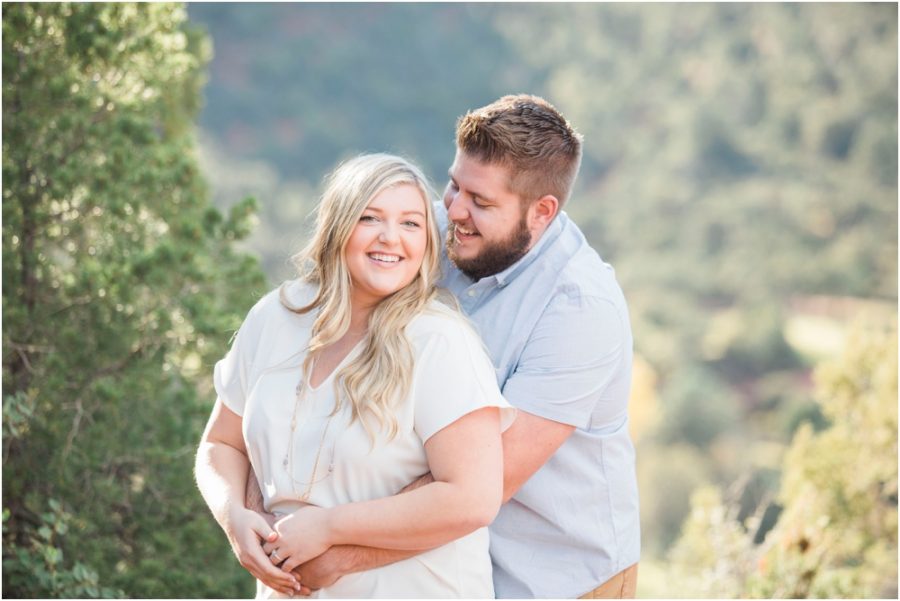 I met up with Emily and Austin on December 2nd for an engagement session in Sedona, Arizona.
Emily and Austin's Love Story
These two met in August 2016 at Grand Canyon University in their chemistry lab class (and yes, they have heard all the jokes about how they had chemistry from the start). Austin and Emily didn't actually go on their first date until the following Valentine's Day. But when they did, it was at Emily's favorite restaurant, Oregano's. Austin was 20 minutes late, and Emily spilled pizza on her light pink dress, but it was still clearly meant to be. After all, just one month later, they were "officially" boyfriend and girlfriend!
Then, this September, Austin took Emily on a picnic on one of the hottest days of the year, before they planned to go to a Rascal Flatts concert. Emily thought he was crazy, to be outside in the Arizona heat. But, she went along with it anyway because she had a feeling he had something special planned for their one-and-a-half-year anniversary.
Now, Austin had been planning ahead. He and Emily had been collecting stickers from every place they had visited together, and he kept them all and put them on a cooler that he brought out during the picnic! Emily so excited by this thoughtful and loving gesture. She thought that the sticker display was the extent of Austin's surprises. But boy was she wrong! She was enjoying her sandwich with some Cheetos and she mentioned that she'd like to ice cream before the concert.
Austin said he had ice cream and bent down to the cooler to get some, asking her, "Do you know what is better than ice cream?"
"Nothing?" she replied.
"A ring," he replied—and then got down on one knee with her ring nestled in a carton of her favorite ice cream.
Hastily wiping Cheetos dust from her face, Emily accepted!
A Windy Sedona Engagement Session
Seriously, how cute is that proposal? I loved listening to them talk about their love. There was so much joy that they shared. Emily and Austin love being together. Of course, while they were all smiles talking about each other, there was a little hiccough when Austin realized that they would be on the overlooks for our Sedona engagement session. He's afraid of heights, and Emily neglected to mention we'd be that high up in the wind and chill! But he managed his fear—and the session went smoothly!
I love doing couples' engagement photos in Sedona, so I'm glad he was willing to do that. The sweeping views and magnificent landscapes of Sedona make for the perfect Arizona backdrop for engagement portraits. I was so pleased to capture their love in such a breathtaking setting. Even though Scottsdale engagement sessions and Scottsdale weddings are beautiful, Sedona has a bit of magic. It was so much fun to photograph that for this wonderful couple.
Emily & Austin, thank you for letting me capture your engagement photography! I can't wait for you two to be married in August at the Tapestry House in Laporte, Colorado. (I'm sure your "flower grandmas" will be a hit!)